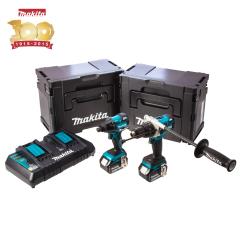 Makita DLX2040SPE 18V Cordless Brushless li-ion 2 Piece Kit Complete with 2 x 5Ah Batteries, Twin Battery Charger and 2 x Black MakPac Carry Cases
This Metallic Blue Limited Edition Combi Drill and Impact Driver Kit from Makita is in celebration of their 100 Year Anniversary in 2015 since they started doing business in 1915.
The Makita DLX2040SPE is a Cordless Twinpack featuring DHP481 Combi Drill and DTD129 Impact Driver, both machines coming with brushless motors. Add the 5Ah batteries to this and what you have is a couple of machines with unprecedented runtime.
DHP481 Combi Drill Features:
Forward/reverse rotation
Single sleeve keyless chuck allows for easy bit installation/removal by one hand.
Electric brake
Twin LED job light with afterglow
2 mechanical gears
Battery fuel gauge - 3 lights on = more than 50% battery capacity, 2 lights on = 20 to 50% capacity, 1 light on = less than 20% full battery capacity
Variable speed control by trigger
Best possible ergonomic handle for drill-driver applications
Compact overall length of 205mm
XPT - Extreme Protection Technology
BLDC motor specially designed to provide, above all, more work amount on a single full battery charge
DTD129 Impact Driver Features:
LED Job light with pre-glow function
BLDC motor specially designed to provide, above all, more work amount on a single full battery charge
Energy production is more efficient than brushed DC motor because of no friction loss caused by brushes, enabling lower amperage for reduced heat production and increased work amount on a single full battery charge
Comes With:
2 x 5Ah li-ion batteries
DC18RD twin battery charger which will charge the batteries in 45 minutes
MakPac carry case type 3 (Black) x 2
Side handle and depth stop for combi drill